Sectionalizer
GST20-A-YN10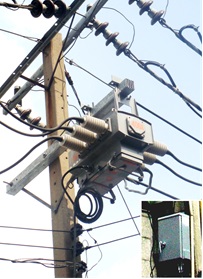 24kV SF6 Load Break Switch with Control Unit
Characteristics
Three-phase gang-separation ensures no abnormal voltage-rise at healthy phase without
open-phase.
Successful reclosing ensures no unnecessary blackout.
The overcurrent detecting setting is selectable from 150, 200, 300, 400, and 600A.
The SO operation mode is settable at 1Shot or 2Shot.
Automatic trip and SO operating functions are checkable.
The status of load break switch can be locked out if the filled gas pressure (150kPa・G) drops below the prescribed value (75-90kPa・G).
Sectionalizer is equipped with the external alarm contacts for low gas pressure and circuit fault.
Sectionalizer conducts self-check for overcurrent detecting circuit and trip coil circuit and then displays on panel when abnormal.
Stainless steel case ensures excellent endurance and weatherproof performances.
IP class of LBS and control unit are IP65 and IP54 respectively.
SF6 Gas LBS is maintenance-free because of sealed structure.
Design concept enables the future extension to remote control through FRTU (wireless unit).