Control center S-MFR-D-type
S-MFR-D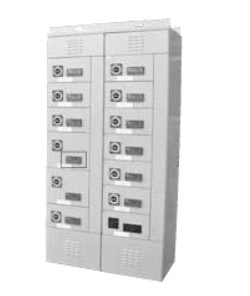 Control center S-MFR-D-type
Characteristics
Monitors overload, phase loss, ground, overcurrent protection, pre-alarm (overload, ground), MC (magnetic connector), congestion detector, and answer-back signal to detect unintended operation stoppages and greatly improve protective functions.
Load current, leaked current, malfunction trip current, malfunction code, settings values, operation history data are displayed on screen.
Monitor mode LED and unit display for easy understanding.
Select optimal pattern from among 256 sequences.
Enables flexible options for diverse external input signals.
Able to select settings for reboot after instantaneous power failure, error output, and transmission error operation pattern, enabling diverse sequence control.
Models available for standard networks (DeviceNet, CC-Link), and it is possible to build diverse networks for a range of systems, from small-scale to large-scale systems.
Input (fixed 3-points, maximum 8 points), output (fixed 2-points, maximum 5 points), analog input/output (1 point each), enabling you to freely select functions for selected input/output. Maximum number of selected input/outputs will change depending on the control method.
Includes available power (kW) and available capacity (kWh) measurement function that can be used for energy conservation monitoring. *In accordance with Measurement Act Article 16, this unit cannot be used on feed-in transactions or distribution.
Configured data and history data is saved in nonvolatile memory and is not lost in the event of a long-term power outage.
Display panel includes a protective cover to prevent unintended operations.
Related products